How to Pair Your Watch with the Right Jewellery
Can you mix different metals when pairing a watch with jewellery? For example, can you wear your silver watch with a gold bracelet? Or a gold watch with copper cufflinks? Does the bracelet color of your Tag Heuer Autavia need to match your leather cuffs? Can you get away with wearing a yellow gold Cartier Pan there with your platinum wedding band?
The answer to these questions is simple: It's up to you. There really are no strict rules. Accessorizing is all about expressing yourself, and you can certainly wear whatever jewellery you want with your favorite watches.
But if you want pieces that go together and go a long way in your wardrobe, then you have to be a bit more discerning when you buy timepieces and jewellery online. Here's a guide that can help you pick out pieces that complement each other.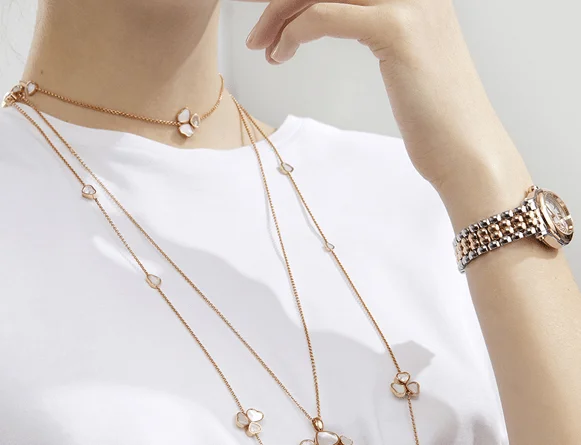 Elevate an engineered watch with matching finishes
Do you have a Tag Heuer Formula 1 with a stainless-steel case and bracelet? Highlight its beautiful form by pairing it with a ring, a pair of cufflinks, or a bracelet in a matte silver tone.
Create a fresh minimal look
Dress up your functional and discreetly upscale Cartier Tank with pared-down, gender-neutral jewellery in warm white palettes. This classic timepiece will look great with an architectural silver bracelet and ring. You can do the same with other Cartier timepieces like the steel Ballon Bleu, and the Santos.
Go for contrast
Your diamond-studded Chopard Imperiale is more than just a timepiece—it's also jewellery on its own, rich in delicate arabesque motifs that can quickly elevate the simplest of outfits. Complement its opulence with subtle sculptural earrings. That's all you really need.
Invest in timeless brands
More than a symbol of affluence and wealth, jewellery and watches are often sentimental, too. Brands like Breguet, Madani, and Chopard are perfect gifts for yourself if you want to celebrate professional or personal milestones. The great thing about luxury timepieces is that they are versatile; they can be worn on their own for relaxed days or paired with your favourite high jewellery for a special occasion.
Berani offers a range of luxury timepieces and jewellery from top brands around the globe, including Fope, Tissot, Breitling, and Omega. Visit our Toronto boutique or browse our selection online on our website. We will be happy to assist you.