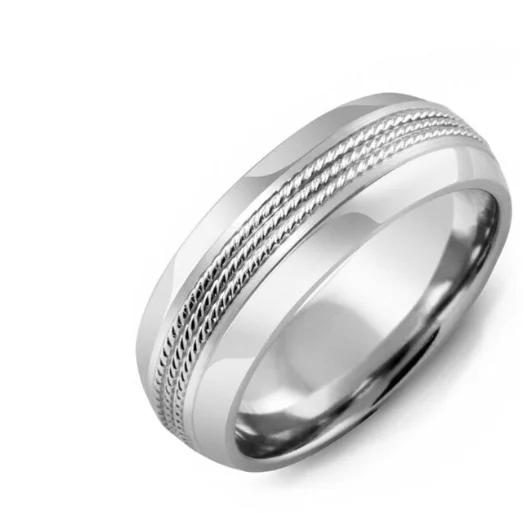 Madani Rings for Men: The Complete Guide
Madani is known for its high-quality wedding rings. Since 1985, the brand has been synonymous with individually crafted, custom bands that are made with utmost precision using only precious metals and cutting-edge technology.
To buy a Madani wedding ring means to invest in a luxurious piece that symbolizes your unchanging love and commitment. It's important to choose a ring that you will feel comfortable wearing forever—something that reflects your sense of style, personality, and one-of-a-kind taste.
As you explore the range of Madani rings for men, you'll find a range of distinctive styles—from classic and timeless yellow gold and silver bands to modern pieces that are made of cobalt, ceramic, and tungsten. Not sure where to start? This guide should help you select the right Madani ring:
Consider your budget
Set a budget before you start shopping for rings. The price of Madani bands can range from a few hundred dollars to thousands, depending on the type of metal and if there are gemstones. When you know how much you're willing to spend, you can easily narrow down the selection of products within that price range.
That said, you might want to remain flexible with your budget, in case you find an attractive ring that may be priced a bit over what you intend to spend. Remember that your wedding band will be worn every day and possibly for the rest of your life, so it's best to invest in something you'll truly love and will be proud to wear.
Metal
Platinum and gold are the most timeless metals when it comes to wedding bands, but if want a more modern take on your ring, consider cobalt and tungsten. Madani also offers rings made of ceramic.
Width
Madani rings for men come in different widths to suit large and small hands. The traditional sizes are 8mm and 6mm, but if you want the ring to make a statement, you may want to consider an 11mm band. Try on rings in different widths before you making a final choice. Madani offers widths from 2mm to 11mm.
Fit
Fit pertains to how the ring would feel on the finger. Rings can be curved, bevelled, rounded, or flat. Again, try on different options to know which will suit your lifestyle.
Finish
Madani rings can be finished in different ways, including high shine, polished, and satin. Your choice should depend on your personal taste and the metal you want.
Other features
Madani rings for men can also be made with gemstones like diamonds. They can be engraved, too.