How to Wear Mixed Metal Jewellery
Mixed metals jewellery has become a prominent trend in the fashion industry, captivating the attention of style enthusiasts and designers alike. This jewellery style involves combining various metals like gold, silver, rose gold, and more within a single piece or by layering multiple pieces. Blending different metals adds depth, contrast, and visual interest to the overall look, elevating the style quotient of any outfit. This article aims to guide individuals on how to wear mixed metal jewellery in a structured and stylish manner, taking into consideration the selection of pieces, achieving balance and proportion, exploring matching or mismatching metal combinations, considering the occasion, and encouraging personal creativity. By following these insights, readers will learn how to confidently embrace and showcase mixed metal jewellery, empowering them to express their unique sense of style while staying on-trend.
Understanding the Tendency of Blending Different Metals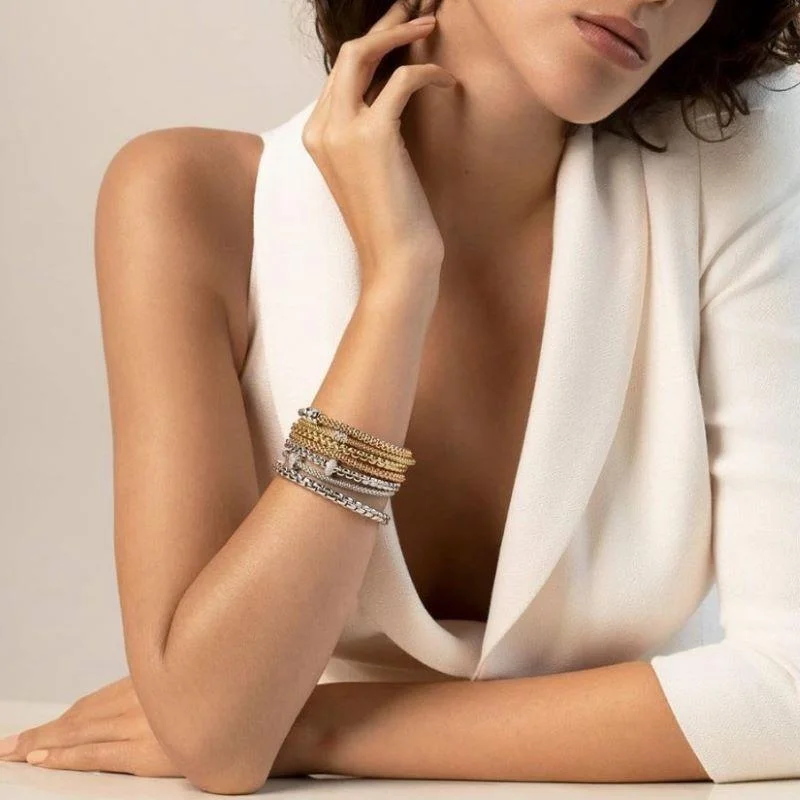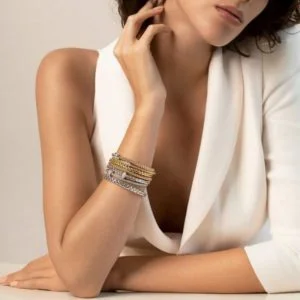 The trend of mixing different metals has gained significant popularity in contemporary fashion due to its ability to create unique and eye-catching looks. By juxtaposing metals such as gold, silver, rose gold, copper, brass, and others, mixed metal jewellery offers a refreshing departure from traditional single-metal pieces, adding a touch of modernity and individuality to one's ensemble. Gold, with its warm and lustrous hue, brings a sense of elegance and luxury. Silver, on the other hand, offers a sleek and cool-toned aesthetic. Rose gold, with its delicate blush colour, imparts a romantic and feminine touch. These metals, along with others like platinum and titanium, can be combined to create captivating contrasts and harmonious blends. The versatility of mixed metal jewellery lies in its ability to enhance and complement a wide range of outfits and styles.
Choosing the Right Pieces
To create a cohesive and stylish look, it's essential to start by selecting a focal point for your ensemble. This could be a necklace, bracelet, pair of earrings, or even a statement ring. The focal point will serve as the centrepiece of your jewellery arrangement and guide the rest of your choices.
Considering the colour scheme of your outfit is crucial when wearing mixed metal jewellery. By aligning the metals with the tones in your attire, you can achieve a harmonious and well-coordinated look. Here are some examples of complementary metal combinations based on warm or cool colour tones:
Warm Colour Tones
Yellow and Rose Gold: Pairing yellow and rose gold creates a luxurious and harmonious fusion. This combination is ideal for outfits with warm tones like red, orange, brown, or earthy hues.
Gold and Copper: Mixing gold and copper brings out a warm and rustic feel. This combination works well with earthy tones, warm neutrals, and autumnal colours.
Cool Colour Tones
Silver and White Gold: Mixing silver and gold jewellery can create a sleek and elegant combination. This pairing is suitable for outfits with cool colours like blue, green, purple, or grey.
Silver and Platinum: Combining silver and platinum adds a touch of sophistication and modernity. This can complement cool-toned outfits and provide a sleek and contemporary look.
Achieving Visual Harmony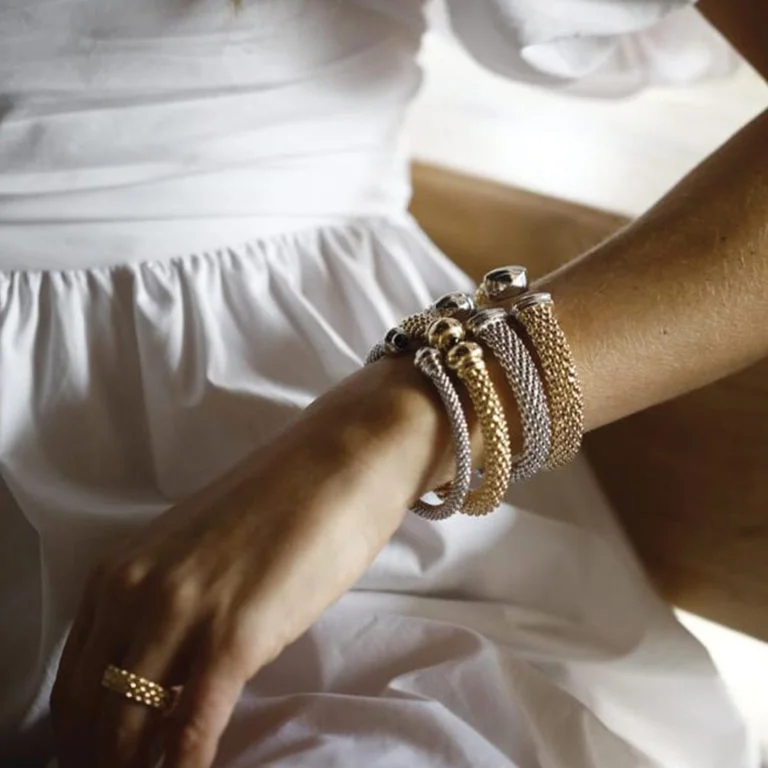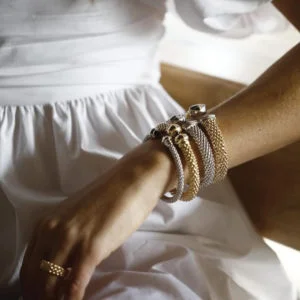 Balance and proportion are essential considerations when wearing mixed metal jewellery to create a polished and well-composed look. Here are a few suggestions for  achieving the desired equilibrium:
Matching the size, shape, and weight: When wearing multiple mixed metal pieces, it's important to ensure that they are proportionate to one another. Aim for a harmonious balance by matching the size, shape, and weight of different jewellery items. For instance, if you're wearing a bold and chunky necklace, opt for more delicate and understated earrings or bracelets to avoid overwhelming the outfit. Balancing the proportions will create a visually pleasing and cohesive overall appearance.
Layering and stacking: Layering and stacking are techniques that can enhance the impact of mixed metal jewellery while maintaining balance. When layering necklaces, consider starting with a longer piece as the base and adding shorter ones on top. This creates depth and dimension while maintaining a sense of order. When stacking bracelets or rings, mix metals of different widths and textures to create a visually interesting and balanced arrangement.
Selecting a focal point: Choose one standout piece of mixed metal jewellery as the focal point and build around it. For example, if you have a bold statement necklace, keep the rest of your jewellery more subtle and complementary. This allows the focal piece to shine without overwhelming the entire look.
Consider your body proportions: Take your body proportions into account when selecting and styling mixed metal jewellery. If you have a petite frame, opt for smaller and daintier pieces that won't overpower your stature. If you have a taller or broader frame, you can experiment with larger and bolder mixed metal jewellery to create a balanced and proportionate look.
By paying attention to harmony, balance,, and your body's proportions, you can create a visually pleasing and well-structured mixed metal jewellery ensemble.
Considering the Occasion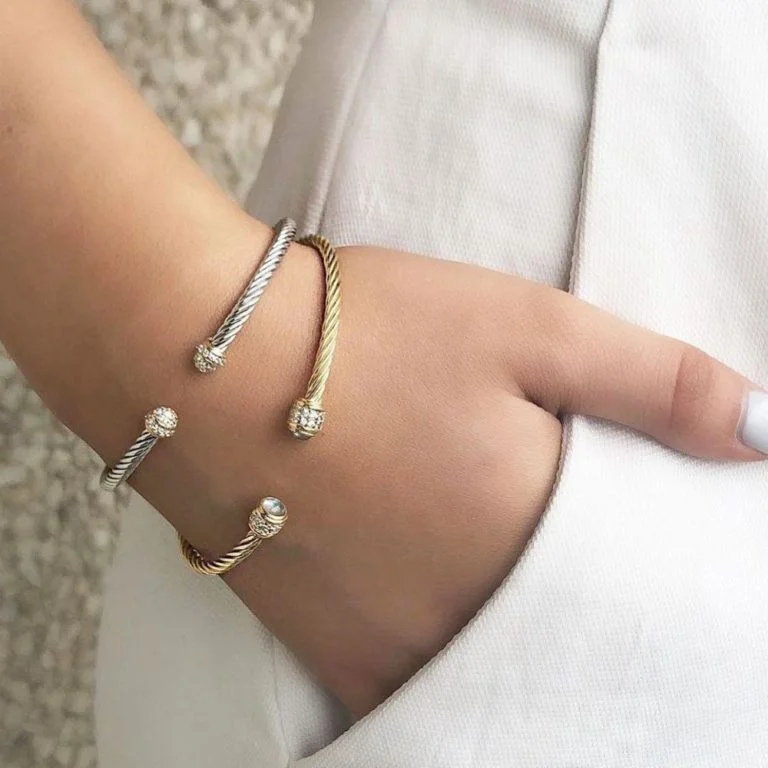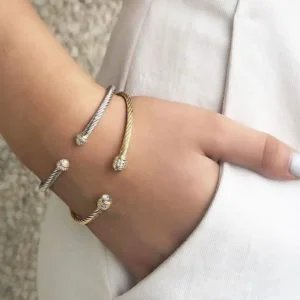 When wearing mixed metal jewellery, it's crucial to consider the occasion or event you're attending. The right choice and arrangement of mixed metal pieces can elevate your style and ensure appropriateness for the setting. Here's guidance on adapting mixed metal jewellery for formal versus casual settings:
Formal Occasions
Opt for minimal and elegant mixed metal combinations: For formal events such as weddings, galas, or cocktail parties, choose mixed metal jewellery that exudes sophistication and refinement. Select pieces with clean lines and delicate details.
Stick to a restrained colour palette: Consider combining metals like silver and white gold or gold and rose gold for an elegant and understated look. Avoid overly bold or statement pieces that may detract from the overall formal aesthetic.
Focus on a single statement piece: Instead of layering multiple mixed metal pieces, let one standout piece take centre stage. A statement necklace, a pair of chandelier earrings, or an intricate bracelet can be the perfect choice to elevate your formal attire.
Casual or Everyday Wear
Embrace bolder combinations: For casual or everyday wear, you have more freedom to experiment with more vivid mixed metal combinations. Play with contrasting metals like gold and silver or mix warm and cool tones to create a more eclectic and expressive look.
Layer and stack for a relaxed vibe: Layering and stacking mixed metal pieces can add a touch of bohemian charm or a trendy vibe to your casual outfits. Mix and match different textures and styles to create a personalised and effortless layered effect.
Consider the versatility of mixed metal rings: Rings are versatile and can be mixed and matched to suit your style. Combine different metal bands or wear stacked rings on multiple fingers for a playful and casual look.
In embracing mixed metal jewellery, we highly recommend exploring the exquisite designs offered by Fope, Miss Mimi, and Madani designers. These renowned brands excel in crafting exceptional pieces that allow you to create captivating mixed metal combinations.
Create various mix and match options and allow your jewellery choices to reflect your unique sense of self-expression. The beauty of wearing mixed metal jewellery lies in the ability to create stunning and individualised looks that capture attention and make a statement.