Omega vs. Breitling: A Dive into Their Iconic Collections
When you're looking at top-notch watch brands, the decision often comes down to Omega and Breitling, right? Each is a powerhouse on its own, bringing to the table a legacy of craftsmanship, unique design, and reliable functionality. So, when it's time to pick your next watch, what's it going to be? Will you go for the precision and bold style of Breitling, or will you lean towards the diverse and classic appeal of Omega?
Each brand offers more than just a timepiece; they offer a piece of history, a statement of style, and a commitment to quality. With Omega and Breitling, you're not just making a purchase; you're investing in a legacy. Sounds compelling, doesn't it? Let's delve deeper into their histories and compare specific models to truly understand the uniqueness each brand brings to the table.
A Brief History
Nestled in the cradle of watchmaking, Switzerland, Breitling first opened its doors in 1884 and swiftly built a reputation for producing precision-made chronometers designed primarily for the demanding field of aviation. Breitling watches, celebrated for their robustness, durability, and technical prowess, seamlessly marry functionality with elegance. Over the years, with their undeniable charm and precision, these watches have carved a niche among enthusiasts, firmly holding a place in the hearts of those who appreciate the fine art of watchmaking.
On the flip side, the story of Omega began a bit earlier, in 1848, also in the serene landscapes of Switzerland. This brand has not only witnessed but actively participated in some of history's landmark moments, like its moon landing debut in 1969. Omega boasts a diverse portfolio of watches, from effortlessly elegant dress watches to rugged, reliable dive watches, each piece telling a story of heritage and unmatched craftsmanship. With an appeal that transcends age and style preferences, Omega continues to win over watch lovers from all walks of life, offering something truly special for everyone.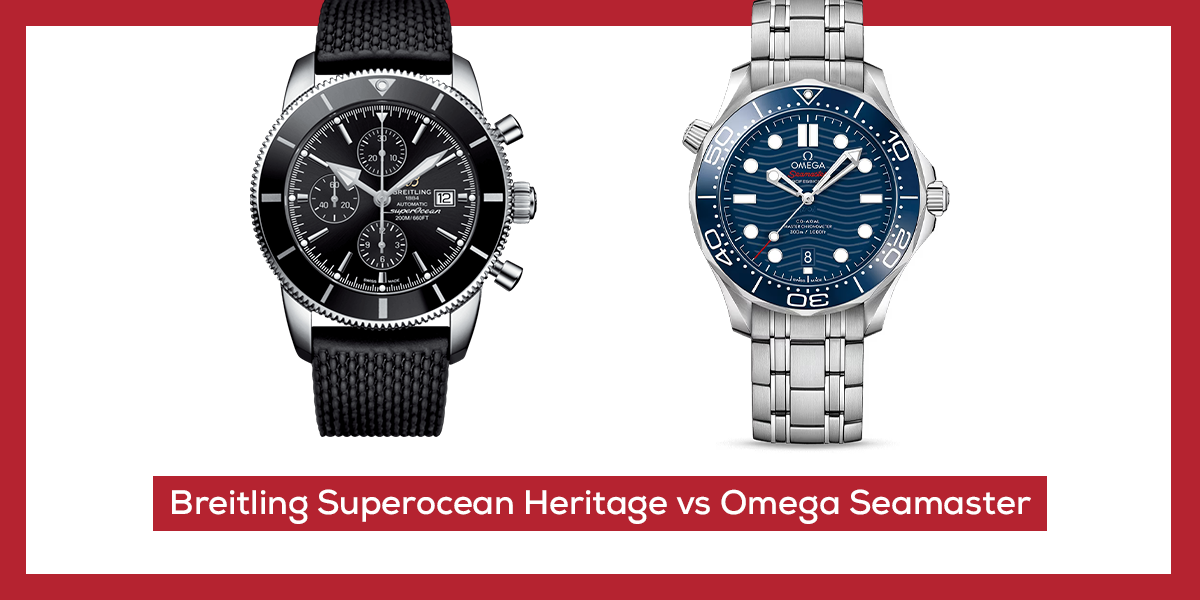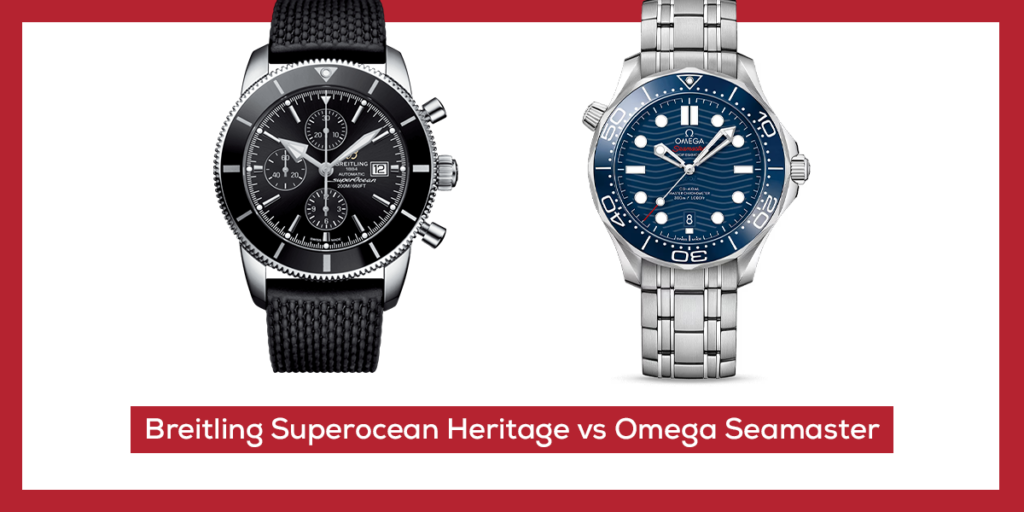 Dive into the Collections: Breitling Superocean Heritage vs. Omega Seamaster
For the ardent dive watch enthusiasts, the choice between Breitling's Superocean Heritage collection and Omega's Seamaster collection is both enthralling and challenging due to their individual sets of appealing features and specifications.
A collection with a rich history, the Breitling Superocean Heritage offers a fascinating fusion of retro beauty and contemporary practicality. Superocean Heritage may be the correct choice for you if you're looking for a watch that honours the heyday of diving watches while embracing modern watchmaking technology. It is a trustworthy diving companion due to its 200-metre water resistance capacity. It also claims precision with an automated movement. The unidirectional bezel, a crucial component for divers, combines functionality and beauty in a beautiful way to enable safe time tracking underwater.
In contrast, the Omega Seamaster is a versatile performer that enjoys widespread recognition. If you are looking for a watch that feels at home both underwater and at an elegant event, the Seamaster collection is where your search may end. With some models in this collection boasting water resistance of up to 600 metres, it's an ideal pick for both seasoned and novice divers. Features like the helium escape valve and screw-in crown are testaments to its engineering that is focused on deep-sea exploration. The Seamaster watches offer a choice between automatic and quartz movements, allowing you to choose based on your preference for precision and maintenance.
Additionally, if brand collaborations and movie affiliations appeal to you, the Omega Seamaster's long-standing association with the James Bond franchise adds an extra layer of allure to this already captivating collection. This association might tip the scale for fans of the iconic movie series, making the Seamaster not just a watch but a piece of cinematic history.
Ultimately, the choice between Breitling Superocean Heritage and Omega Seamaster boils down to personal preference and requirements. If a retro-inspired design with modern functionality speaks to you, the Superocean Heritage is worth considering. However, if you desire a watch that is not only an exceptional dive companion but also steeped in a legacy of elegance and cinematic glamour, the Omega Seamaster is hard to overlook.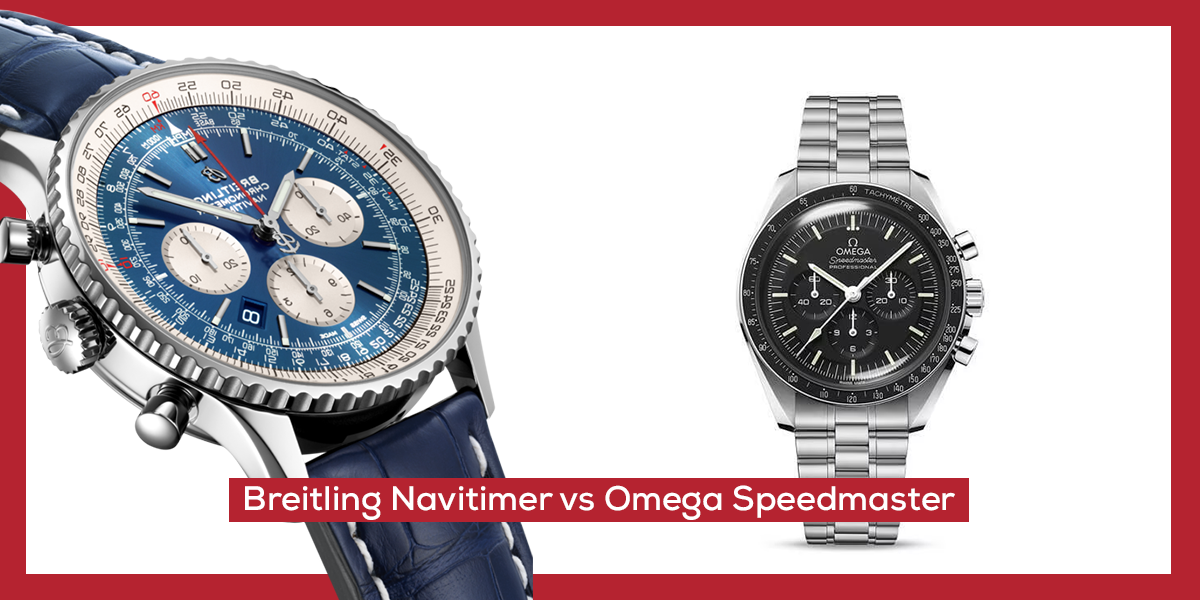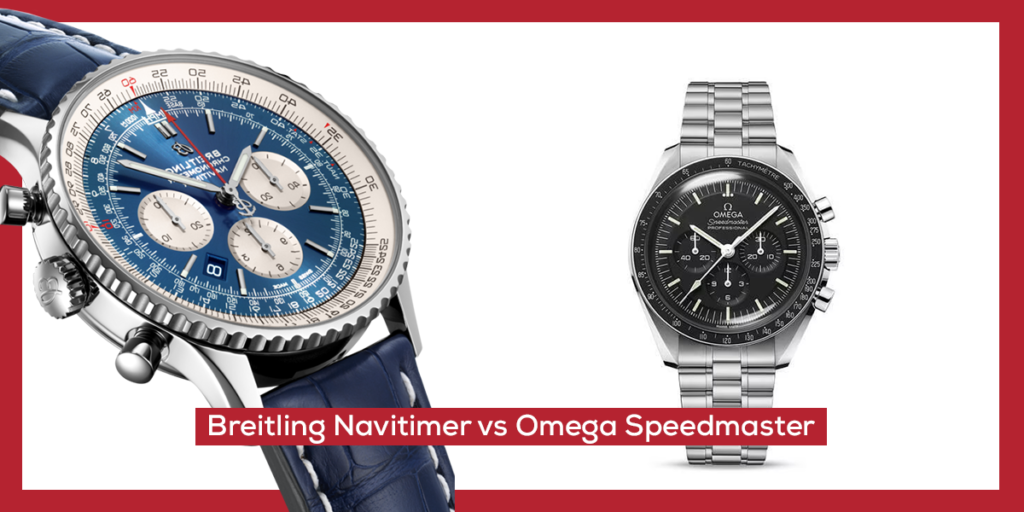 The Chronograph Conundrum: Breitling Navitimer vs. Omega Speedmaster
If you're finding yourself torn between the Breitling Navitimer and the Omega Speedmaster, a closer examination of their specific features and associated user experiences is in order.
Starting with Breitling's Navitimer, this timepiece is especially beloved amongst aviation professionals and enthusiasts. Its distinct feature is the slide rule bezel, a tool that allows pilots to perform various necessary calculations mid-flight, like climbing time, fuel consumption, or converting miles to kilometres or nautical miles. This bezel is not just a fancy add-on but a practical tool for aviators, making the Navitimer not only a timepiece but also a functional instrument for flight planning. Its bold and large dial design makes it easily readable, and the watch itself serves as a statement piece due to its distinctive and sophisticated look. So, if you're an aviation professional or an enthusiast who appreciates the blend of function and style, Navitimer could be your go-to.
Omega Speedmaster, famously known as the "Moonwatch", boasts a legacy unmatched. As the first watch worn on the lunar surface during NASA's Apollo missions, the Speedmaster is steeped in history, making it an instant attraction for space aficionados and watch collectors alike. Its design is cleaner and more straightforward compared to the Navitimer, offering a sleek and timeless look that is versatile enough to be worn on various occasions. The Speedmaster is not just about looks; its chronograph functions are reliable and have been tested under the extreme conditions of space travel. If you are a fan of space exploration history or prefer a watch with a cleaner aesthetic that doesn't sacrifice functionality, the Speedmaster is a compelling choice.
So, if you are engaged in the aviation field or are enchanted by a watch that offers specific calculative functions with a bold design, the Breitling Navitimer is a strong contender. However, if a watch with a rich history, clean design, and reliable chronograph functions appeals more to you, then the Omega Speedmaster might just be the watch that ends up gracing your wrist.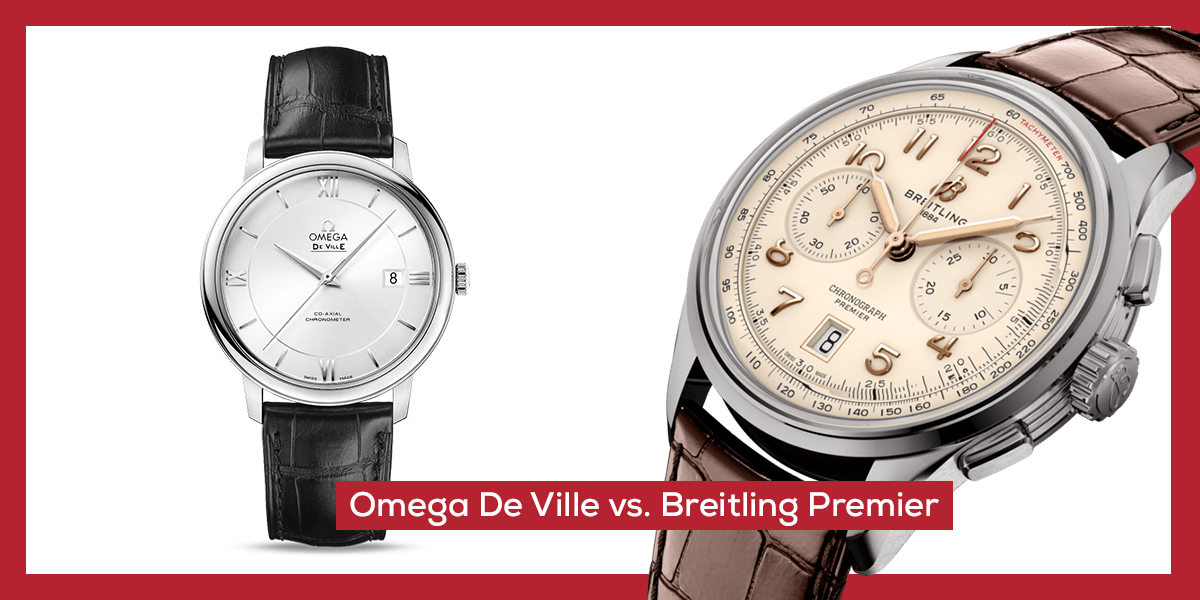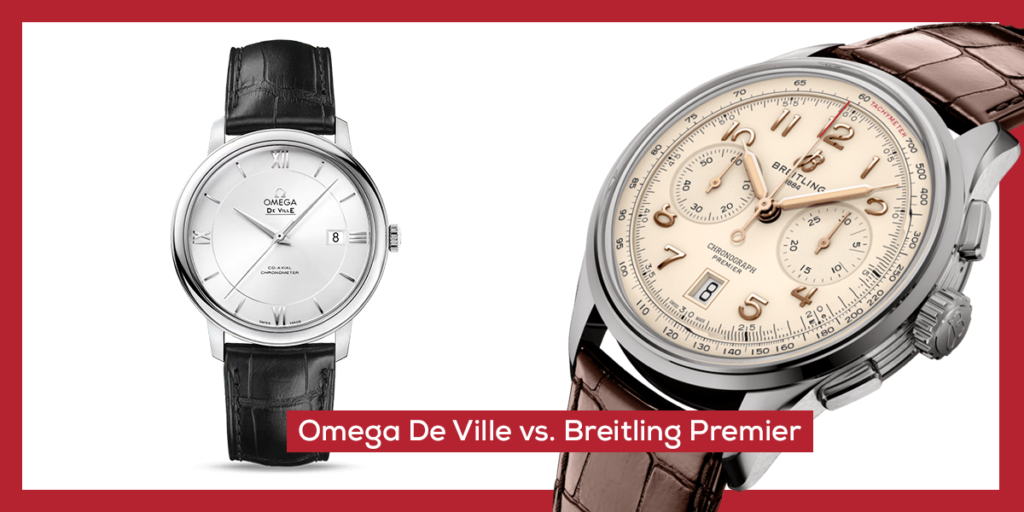 The Elegance Showdown: Breitling Premier vs. Omega De Ville
For those in search of elegance, both brands deliver. Breitling's Premier collection is a testament to classic elegance, seamlessly suitable for both formal gatherings and casual outings. With reliable automatic movements and a design ethos that's sophisticated yet readable, the Premier line offers various case materials, dial colours, and straps for diverse tastes. However, if you're seeking an extensive array of designs, the Premier collection might seem a bit limiting, as it leans towards a more traditional and classic aesthetic.
Omega's De Ville series is equally dedicated to crafting elegant watches with meticulous attention to detail. With a spectrum of movements, including Co-Axial automatic and manual winding mechanisms, De Ville watches offer a design palette ranging from the minimalist to the elaborate. While providing a broader range of design options, De Ville demands careful maintenance to preserve its delicate craftsmanship. For those drawn to sportier or avant-garde designs, De Ville might not fully align with those preferences, as the collection tends to favour a more traditional and refined aesthetic.
Ultimately, the decision between the Breitling Premier and Omega De Ville collections hinges on your personal style and watch needs. If a timeless, classic style with automatic movements resonates with you, the Premier collection could be your ideal match. But, if you're inclined towards a collection offering diverse movements and a balanced mix of simple to intricate designs, Omega's De Ville is undoubtedly worth your consideration.
Understanding Their Market Position
Understanding the market position of Breitling vs. Omega helps in appreciating the value they offer to watch enthusiasts. While Breitling has carved its niche in aviation and diving watches with unmatched precision, Omega offers variety, legacy, and the glamour associated with sporting and adventure events.
Choosing between Breitling and Omega is a delightful dilemma for any watch enthusiast. Whether you lean towards Breitling Superocean Heritage or Omega Seamaster or find yourself torn between Breitling Navitimer and Omega Speedmaster, each piece is a remarkable combination of history, technology, and style. With each collection offering something unique and splendid, making a decision might be challenging, but it guarantees excitement and satisfaction for watch lovers and collectors globally.