Rado vs Longines Watches: Brand Overview & Comparison
It's no secret that luxury watches are one of the most sought-after pieces of jewellery on the market for their immense attention to detail, precision, and intricate craftsmanship. A luxury watch can support your lifestyle for decades to come when cared for properly and even be passed down as a family heirloom after that. Believe it or not, there is a spectrum of luxury watches ranging from a few thousand dollars to a few million dollars. If you want to purchase your first luxury watch but don't want to spend upwards of ten grand, brands like Rado and Longines can accommodate that need. What se
ts them apart? Which brand should you entrust with your luxury watch purchase? Let's take a closer look at both to help you in your decision.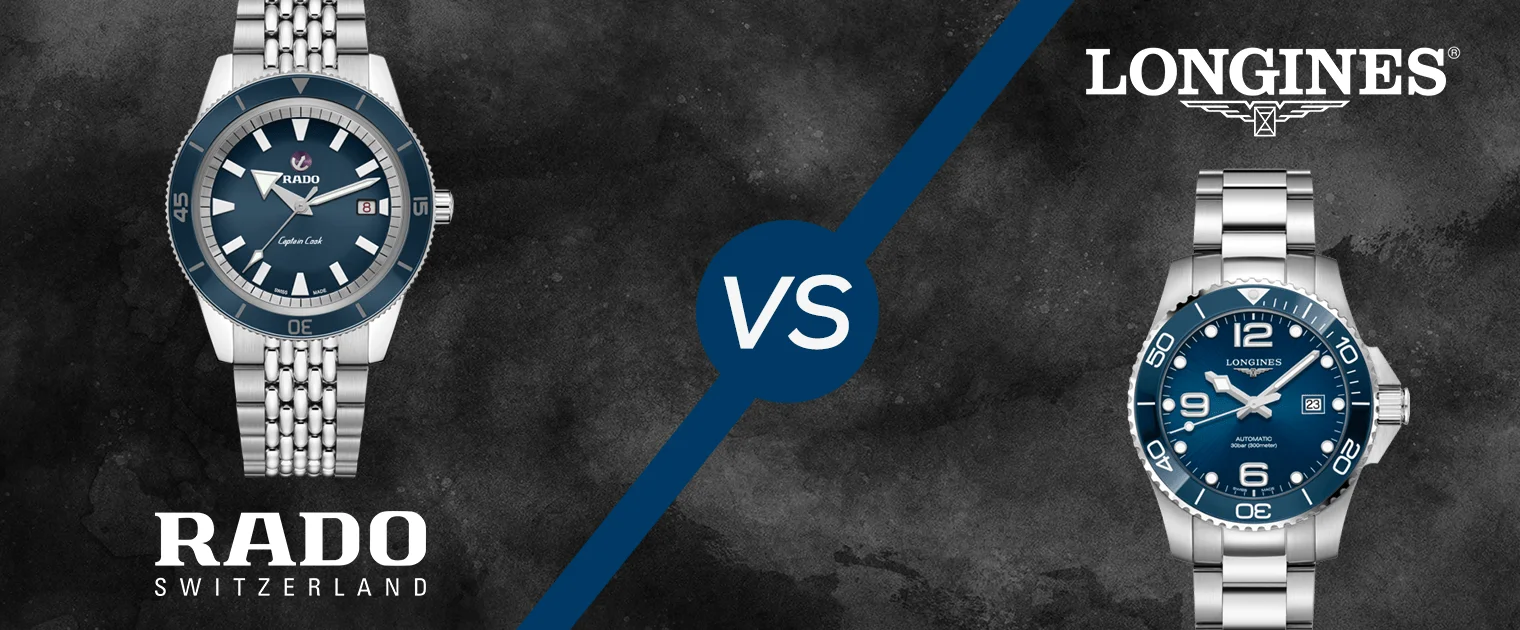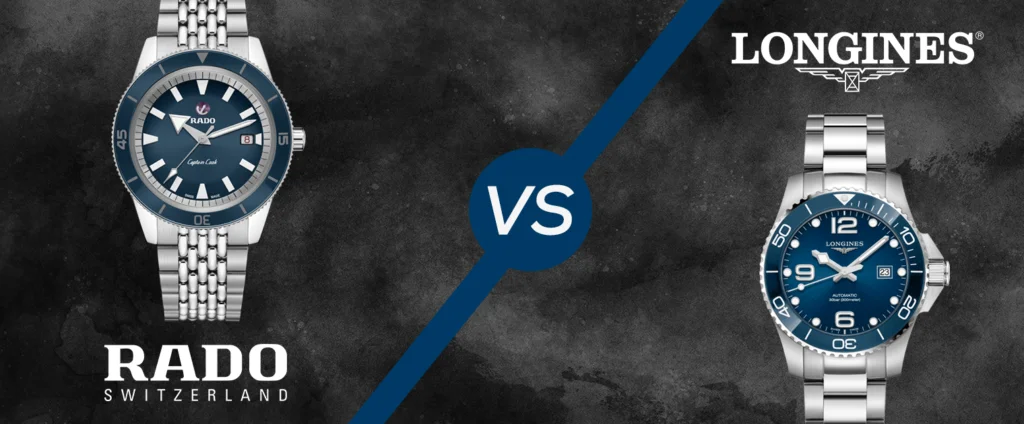 Brand History: Longines
Longines is a Swiss luxury watchmaker founded in 1832. The company has a rich history and has been the official timekeeper of many important events, including the Olympic Games, America's Cup and the China Open tennis tournament. Longines watches are known for their high quality and elegance. The brand produces many different styles with various complications including chronographs, tourbillons and repeaters. The company sells its products in over 120 countries worldwide; however, it maintains that its watches are still affordable enough to be purchased by ordinary consumers as well as collectors who wish to invest in fine timepieces.
Brand History: Rado
Rado watches are known for their high-tech ceramic cases and bracelets. The company was founded in 1917, making it one of the oldest watchmakers on this list. Rado watches have been a well-known Swiss brand since the 1950s. Rado has always been known for its style, durability and accuracy. The company is also known for the high-quality movements that are used in each of its watches. Rado is one of the most affordable watch brands on this list as well as one of the best when it comes to quality materials and construction.
Rado vs. Longines
Now, let's take a look at the similarities and differences among these well-known Swiss brands so that you can decide which one best suits your needs while also giving some insight into how they compare against each other.
Similarities
Selection — Both brands offer a wide array of watches for both men and women, ensuring any shopper will find a piece that they adore. Both Longines and Rado offer different collections of timepieces, ranging from classic to automatic, sport, and more, along with their accessories.
Quality — Both brands originated in Switzerland and are notable for their Swiss-made quality insurance. While both Rado and Longines have their unique direction and process for creating the watches, along with varying materials, watches from either collection are equally durable and reliable across their lifetime.
Price range — You can find a watch from both brands at varying price points. Both Rado and Longines have selections of watches starting from $700-800 as their bottom line. Similarly, both have models that surpass the $10,000 mark within limited and specialty collections. The average price for a Rado or Longines watch falls in the range of $1700-2500, making them relatively equal when it comes to general pricing. There isn't a staggering price difference between the two brands as a whole.
Differences
Material choice — The choice of material is one of the elements that sets Rado and Longines watches apart. Both brands utilise common watchmaking materials such as leather, stainless steel, silver, and titanium. However, Rado watches are more notably known for their construction with high-tech ceramic, which is one of their key selling points. Longines watches, on the other hand, are made with sapphire crystal to make them scratch and crack-proof.
Movement — Longines is more critically acclaimed for the accuracy of their watch movements than Rado. Despite the fact that Rado watches are also immensely accurate, more collectors are fond of Longines watches for their precise movement mechanisms.
Versatility — Many shoppers refer to Longines watches as classy, traditional, and timeless pieces that match any lifestyle and daily occasion. While Rado watches also have classic collections of timepieces, many of their watches have unique elements such as a standout bright colour or unconventional design, giving them a modern edge. Depending on style preference, you may find a watch that is more versatile in everyday use at Longines than Rado.
The Verdict
Let's take a look at a more specific case. Rado's Captain Cook watch collection and Longines' Hydroconquest line are among their most notable collections. With style and design, they are quite similar, especially if you opt for the same colour swatch on both. So if we were to pin the Rado Captain Cook vs Longines Hydroconquest, what differences and similarities would we notice? Firstly, the price — Rado's Captain Cook watches average at $2700 and Longines at $2050. As for similarities, both are automatic movement watches, water resistant up to 300m, and sapphire crystal scratch-resistant.
So, what's the verdict?
When it comes to luxury watches, Rado and Longines are two respected names in the business. Both brands have their own unique history, styles and personalities — but they also share many similarities that make them equally appealing to discerning consumers. If you are fond of a classy or traditional watch, the Longines' collection may appeal to your taste more, while those fond of abstract pieces will adore the unique collections offered by Rado.
Both Longines and Rado have been making high-end timepieces for decades and their products are known for their exquisite craftsmanship, superior quality materials and elegant design. If you're looking for a watch that will stand the test of time and look great on your wrist, either Longines or Rado could be right for you. It simply comes down to your budget and particular style preferences.